We are an official training site for the American Heart Association. We offer Advance Cardiac Life Support (ACLS) & Basic Life Support CPR/AED (BLS) for healthcare providers classes, and Heartsaver CPR/AED & First Aid classes for the general population.
We offer both a classroom setting and/or online classes with hands on practice and skills test. Either class format provides you with the highly accepted certification from the American Heart Association.
We have many classes open to the public through our open enrollment portal, and we also travel to locations for any group, organization or corporate training.
Our hands on approach, the quality of our Instructors, our schedule availability, and our 100% customer service approach, makes us the leader in AHA BLS, CPR, and First Aid training in NE Florida and SE Gorgia.
We are more than just a class, We are a Hero training center.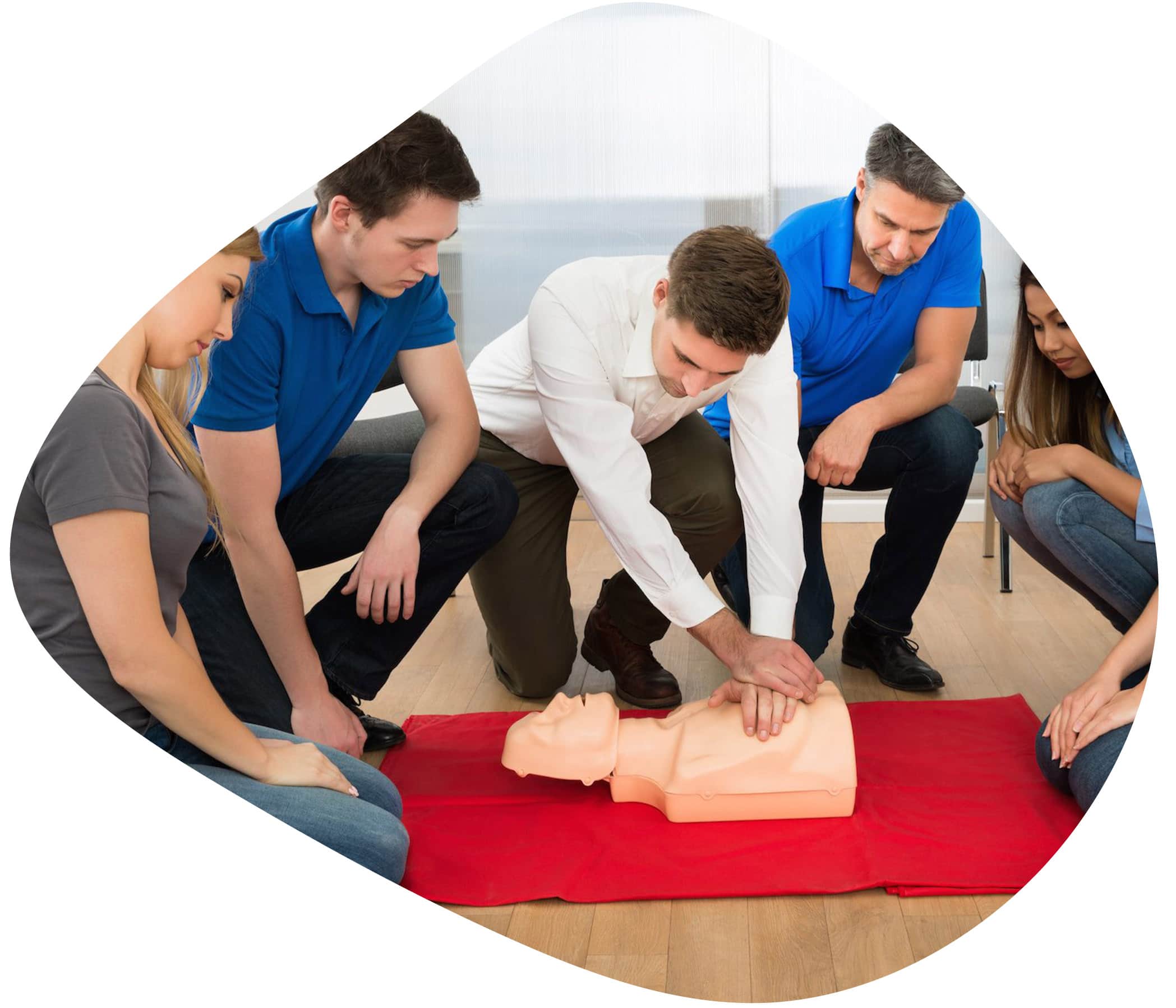 Our Most Popular AHA Classes
Choose one of our top training classes below to get started
Basic Life Support - BLS CPR/AED
Who Needs BLS CPR/AED:
Anyone working in the healthcare field or applying for a job in the healthcare industry.
Anyone applying for or in a college healthcare program such as Pre Med, Nursing, X-Ray Tech, CNA, PT, PTA, Pharmacy, LPN, RN, EMT, etc…
Advanced Cardiac Life Support - ACLS
Who Needs ACLS:
Healthcare professionals that are either leading or participating in cardiopulmonary arrest or other cardiovascular emergencies. This includes professionals in emergency medicine, emergency response, intensive care and critical care units.
If you need BLS you can add it when registering
Heartsaver CPR/AED & First Aid
Who Needs CPR/AED & FA:
Anyone in Security/Safety, Teaching, Community Safety, Construction, Boating and/or anyone who would like to learn these critical life saving skills needed to help while waiting for the paramedics to arrive.
This class is mostly for Personal Trainers,  Yoga Instructors, Teachers, and anyone who wants to learn CPR for personal reasons 
This class is mostly for anyone that needs a First Aid certification but already has their CPR certification. 
This is not a very common class. Call us at 904 778-5547 to help you schedule it.
Maintain Equipment, Stay Compliant, and Save Lives
It's no simple task to set up and maintain an AED program. EMC CPR Training & AED Program Management Service eliminates the burden.
Achieve compliance with local, state, and federal regulations.
Achieve compliance with local, state.
Get expert support for the selection and maintenance of AEDs.
Stay on top of your AED program.
We help you maintain your AED to ensure that it's always rescue-ready.
"We are more than just a class, We are a Hero training center!"
Corporate classes and training
Our instructors bring their unique team-building experience to every class creating tangible experiences that help your employees work cohesively and efficiently in any workplace emergency.
We believe in hands on learning and that having fun keeps everyone engaged and open to learning.
first coast CPR Pledge to you
We are proud to share our Company Reviews.
Please read what our past students have to say about us, register for a class, and come and experience the best CPR class in North East Florida.

Great job by instructor recommend highly thank you for job well done

Sarah Hammond
12:46 27 May 20
Very entertaining while going over all the material required for the American Heart Association BLS exam. I really appreciate the personal stories that illustrated each section reviewed. Thanks Marco!

Charlene Jackson
23:05 24 May 20

Catherine Elliott
12:25 21 May 20
Scheduling was easy and Carlos is a great instructor.

Nasrin Raina
19:09 20 May 20
Carlos is amazing!!! He makes the class very entertaining and is extremely helpful. Great class!

Kayla Tumbarello
16:21 20 May 20
I hade a great experience the instructor was very fun and very patient. I would definitely attend when it's time for my renewal.

I've been here twice in the last year, once for my first aid and once for my BLS. They did such a good job at making you feel at home. They cared so much about your input and feedback, it was nice to feel heard. I will always come back here for my renewals. 100% recommend!

Becca Casey
13:01 16 May 20

Mebane Fordham
14:13 14 May 20

The only place you should go for CPR certification. Carlos was very knowledgeable, funny and engaging. Thank you!

Tibor Arany
20:34 13 May 20
The only place you should go for CPR certification. Carlos was very knowledgeable, funny and engaging. Thank you! This was the best training course I have been to. It was highly engaging, and the time flew by. The instructor was great and presented the information in a way that wasn't dry or boring. I left feeling confident in what I had learned and my ability to put my skills into action if the need ever arises. Once again First Coast CPR BLS class was top notch. Carlos is fabulous and makes the class engaging. Never disappointed.😷 savanna sharp
14:19 07 May 20
Carlos is a fantastic instructor and business owner! He is extremely engaging, makes the class fun even on your third time taking it! Very professional, affordable, and lots of class times offered which makes fitting it into your schedule easy! You get your card via email immediately after the class. Highly recommend!

Megan Davis
13:15 06 May 20
My CPR and BLS course was comprehensive and interactive. I appreciated our instructor's real world application of the source material. I received my digital certification card within minutes of walking out of the classroom. I highly recommend First Coast CPR! Great experience. EXCELLENT TRAINING!!!! CARLOS THE INSTRUCTOR WAS EXCELLENT!!! HIS SKILLS ARE 100% AND HE MADE THE CLASS FUN AND HE MAKES YOU FEEL CONFIDENT THAT YOU CAN BE SUCCESSFUL IN ASSISTING IN CPR. HE EXPLAINED EVERYTHING IN DETAIL AND ALLOWED MUCH ROOM FOR QUESTIONS. i RATE FIRST COAST CPR AND CARLOS THE INSTRUCTOR A PERFECT SCORE!!!

Latoya Gustus
22:41 29 Apr 20
Carlos is an awesome instructor! He was funny, made learning fun, and is very knowledgable. I will definitely be back for my renewal, and will recommend First Coast to others in need of BLS training/renewals! I definitely feel more confident in CPR, AED, and the Heimlich maneuver. Carlos is an amazing instructor! He made our learning very fun, he is hilarious, and he is very knowledgable. He made sure we felt confident before we left. I highly recommend First Coast Training Center!

Great experience! Needed to renew my BLS and was able to take the course online and go to a live hands on skills class very quickly. The instructor made the class fun and made sure everyone was comfortable with the skills. Would highly recommend First Coast CPR!

I really enjoyed the staff and the experience. This is my 3 time going to them. I highly recommend them! Carlos is awesome he keeps the class interesting and does not seem like it's long and boring. I would highly recommend taking classes here Our class really appreciated Marco coming out to our office and training us in CPR. He was informative and kept your attention by sharing real life scenarios. Thanks Marco!

Kathy Gouge
14:14 25 Apr 20
Very entertaining and informative! Didn't take as long as I thought it would, but long enough to learn everything necessary for CPR and the Heimlich. I really enjoyed our instructor and would highly recommend First Coast Training Center!

kelsey green
14:07 25 Apr 20