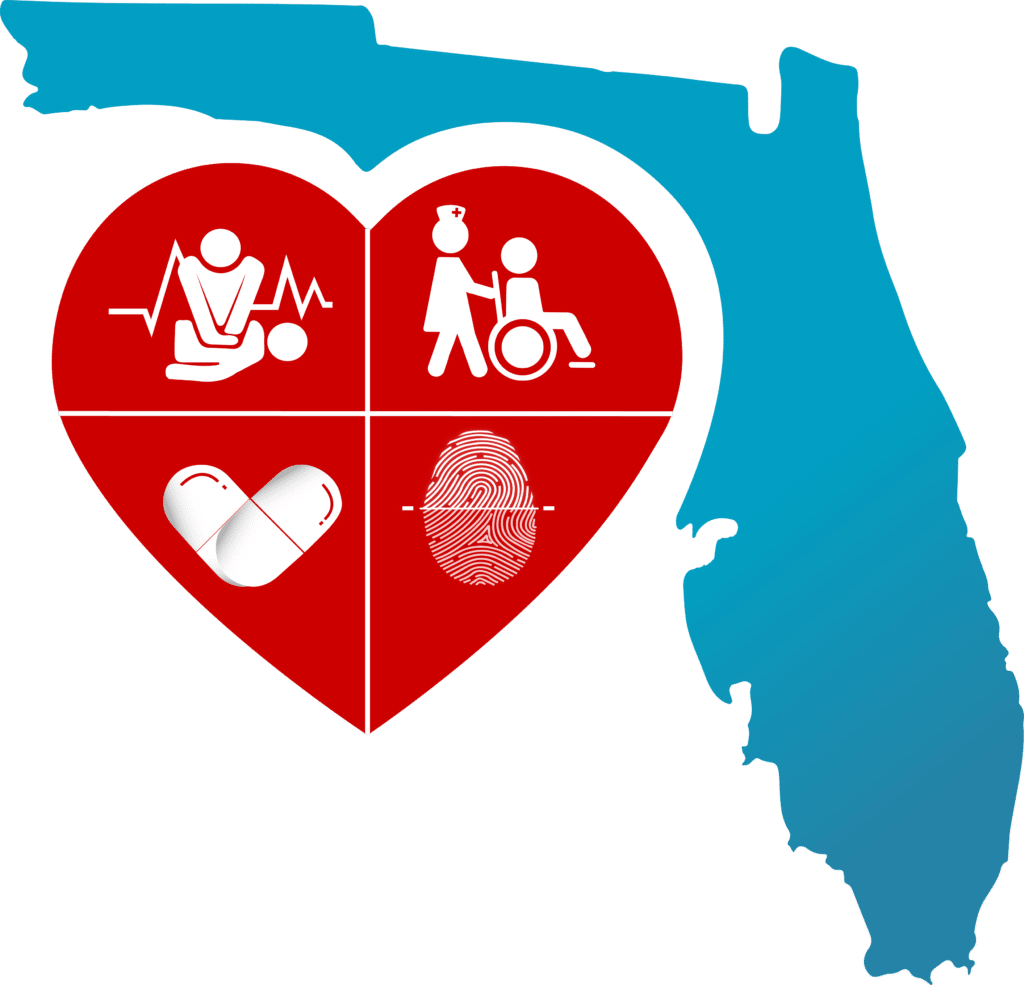 First Coast

Training Center
Home of First Coast CPR, First Coast CNA, First Coast Live Scan, & First Coast Med Tech
We are more than just a class, we are a
Hero

training center
firstcoasttrainingcenter.com
Home of First Coast CPR, First Coast CNA, First Coast Live Scan, & First Coast Med Tech
American Heart Association BLS/CPR, ACLS, CPR/AED, CPR & First Aid, First Aid Courses.
Prepare with us to challenge the CNA State Board Exam. Once you are ready, take the Exam at our location too.
Do you need a Level 2 Background Check for Work, School, to obtain a License, or take an Exam?
We can help you with that.
Expand your knowledge, expand your experience, become a Medication Technician with First Coast Med Tech.
Personal
Empowerment
Our mission is to ensure that all of our students & clients gain confidence in their skills so they can perform them to the best of their abilities.
Welcoming
Environment
Conveniently located, clean and inviting spaces, varied  snacks and beverages, and most importantly friendly, caring, and entertaining staff.
Customer
Service
Our commitment and dedication is to our students & clients. Answering all questions and requests in a timely manner, scheduling or rescheduling classes or appointments without penalty, and continuing support in between certifications, or before and during exams
What Our Students & Clients have to say

Great job by instructor recommend highly thank you for job well done

Sarah Hammond
12:46 27 May 20
Very entertaining while going over all the material required for the American Heart Association BLS exam. I really appreciate the personal stories that illustrated each section reviewed. Thanks Marco!

Charlene Jackson
23:05 24 May 20

Catherine Elliott
12:25 21 May 20
Scheduling was easy and Carlos is a great instructor.

Nasrin Raina
19:09 20 May 20
Carlos is amazing!!! He makes the class very entertaining and is extremely helpful. Great class!

Kayla Tumbarello
16:21 20 May 20
I hade a great experience the instructor was very fun and very patient. I would definitely attend when it's time for my renewal.

I've been here twice in the last year, once for my first aid and once for my BLS. They did such a good job at making you feel at home. They cared so much about your input and feedback, it was nice to feel heard. I will always come back here for my renewals. 100% recommend!

Becca Casey
13:01 16 May 20

Mebane Fordham
14:13 14 May 20

The only place you should go for CPR certification. Carlos was very knowledgeable, funny and engaging. Thank you!

Tibor Arany
20:34 13 May 20
The only place you should go for CPR certification. Carlos was very knowledgeable, funny and engaging. Thank you! This was the best training course I have been to. It was highly engaging, and the time flew by. The instructor was great and presented the information in a way that wasn't dry or boring. I left feeling confident in what I had learned and my ability to put my skills into action if the need ever arises. Once again First Coast CPR BLS class was top notch. Carlos is fabulous and makes the class engaging. Never disappointed.😷 savanna sharp
14:19 07 May 20
Carlos is a fantastic instructor and business owner! He is extremely engaging, makes the class fun even on your third time taking it! Very professional, affordable, and lots of class times offered which makes fitting it into your schedule easy! You get your card via email immediately after the class. Highly recommend!

Megan Davis
13:15 06 May 20
My CPR and BLS course was comprehensive and interactive. I appreciated our instructor's real world application of the source material. I received my digital certification card within minutes of walking out of the classroom. I highly recommend First Coast CPR! Great experience. EXCELLENT TRAINING!!!! CARLOS THE INSTRUCTOR WAS EXCELLENT!!! HIS SKILLS ARE 100% AND HE MADE THE CLASS FUN AND HE MAKES YOU FEEL CONFIDENT THAT YOU CAN BE SUCCESSFUL IN ASSISTING IN CPR. HE EXPLAINED EVERYTHING IN DETAIL AND ALLOWED MUCH ROOM FOR QUESTIONS. i RATE FIRST COAST CPR AND CARLOS THE INSTRUCTOR A PERFECT SCORE!!!

Latoya Gustus
22:41 29 Apr 20
Carlos is an awesome instructor! He was funny, made learning fun, and is very knowledgable. I will definitely be back for my renewal, and will recommend First Coast to others in need of BLS training/renewals! I definitely feel more confident in CPR, AED, and the Heimlich maneuver. Carlos is an amazing instructor! He made our learning very fun, he is hilarious, and he is very knowledgable. He made sure we felt confident before we left. I highly recommend First Coast Training Center!

Great experience! Needed to renew my BLS and was able to take the course online and go to a live hands on skills class very quickly. The instructor made the class fun and made sure everyone was comfortable with the skills. Would highly recommend First Coast CPR!

I really enjoyed the staff and the experience. This is my 3 time going to them. I highly recommend them! Carlos is awesome he keeps the class interesting and does not seem like it's long and boring. I would highly recommend taking classes here Our class really appreciated Marco coming out to our office and training us in CPR. He was informative and kept your attention by sharing real life scenarios. Thanks Marco!

Kathy Gouge
14:14 25 Apr 20
Very entertaining and informative! Didn't take as long as I thought it would, but long enough to learn everything necessary for CPR and the Heimlich. I really enjoyed our instructor and would highly recommend First Coast Training Center!

kelsey green
14:07 25 Apr 20